For all the law is fulfilled in one word,
even
in this:
"You shall love your neighbor as yourself.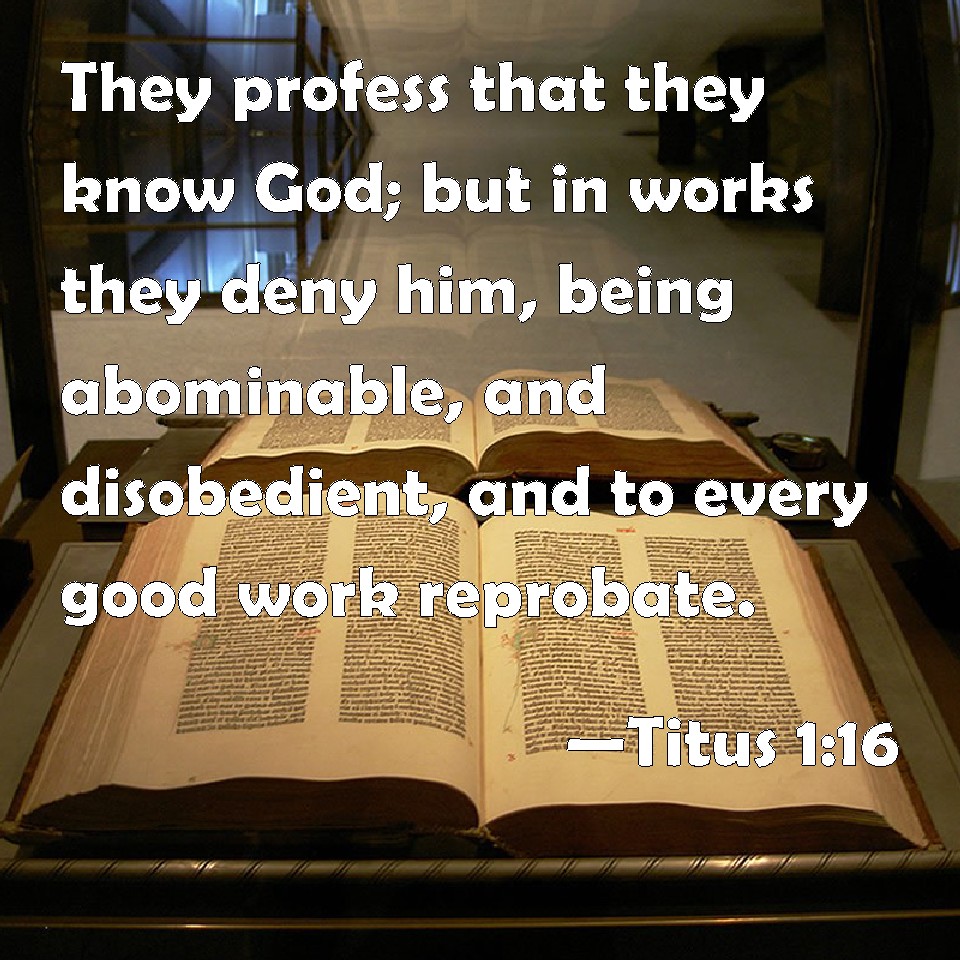 picture from biblepic.com
We are now ready to enter Part 2 of our Bible study in the book of Titus. Today we are going to be discussing Titus 1:10 -16. Some of these verses in today's study are somewhat hard to understand, but we are confident that God is willing to speak to us through every book of the Bible and every portion of Scripture. So let's begin with verse 10.
Titus 1:10
For there are many unruly and vain talkers and deceivers, specially they of the circumcision:
In our previous study, we learned about the character qualities that God requires in Bishops and elders. We learned how the Bishop and elder must be a man who is faithful to his wife in marriage and faithful to his family, he must not be a drunkard or violent, and he must be pure in all areas of his life.
Now in verse 10 we read that there are many people who deceive others, people who speak untruth and whose conversation is typically useless and does not center on the things of the Lord. We are warned that these kinds of people are those of the "circumcision". There were people in Biblical times those who taught that the Gentiles should follow the Jewish customs in order to please God. We know that what God requires of us is that we repent of our sins and come to Jesus and accept Him as our personal Lord and Savior. Jesus is the One who took our sin upon Himself there on the cross, and He suffered and died in our place. What we must do is to receive Him as Savior and make Him the Lord of our lives. When we give our hearts and life to Him, He becomes our Lord and Savior and therefore we surrender our will to His will and we choose to live according to His ways. We no longer have any desire to live the sinful life of pleasures and worldliness.

Verse 11 -

Whose mouths must be stopped, who subvert whole houses, teaching things which they ought not, for filthy lucre's sake.
The mouth of those who speak lies must be stopped. That is why it is so important that our local church pastor regularly inform the congregation he serves of the false teachers that we all encounter through various forms of media, on the internet, radio and TV. The health and wealth preachers of our day, those who distort the Bible or leave out passages of the Bible, passages of the Bible that warn us of the sin of homosexuality and immorality. Please everyone who is reading this, be warned that the Bible is very clear that homosexuality and any sexual activity outside of marriage is a sin against God and will be punished by God Himself. God created marriage - one man and one woman married for life, that is God's original plan. God in His great mercy and compassion has made a way of escape for that man or woman who finds himself/herself suddenly trapped in a marriage where their spouse has broken the marriage covenant and has went outside the marriage for sexual experiences. In a case such as this God does allow for divorce.
Many of the false teachers are very hungry for money and request you give them money while they live in luxury and riches and boost their own egos. Sooner or later God brings them down to destruction.
Verse 12 -
One of themselves, even a prophet of their own, said, the Cretians are alway liars, evil beasts, slow bellies.
These people are lazy and live like animals, living a lie. They say they are Christian but deny Christ by their lives and actions.
Verse 13 -
This witness is true. Wherefore rebuke them sharply, that they may be sound in the faith;
We need to focus our attention on becoming sound in faith. How does one do this you ask? By spending time with the Lord in Bible reading and prayer. This needs to be a regular routine, something that you do every day. God will speak to you as you read the Bible. Take time to pray and listen to what He is telling you, be willing to do what He tells you.
Rebuke those who are leading others astray. Stand up for truth and righteousness. Take a stand for the Lord even if it costs you something. Take a stand for the Lord at work or school, in your family and with your friends. The Lord rewards those who are faithful to Him.
Verse 14 -
Not giving heed to Jewish fables, and commandments of men, that turn from the truth.
As you take a step of faith and be that witness for the Lord, and take a stand for righteousness, you will be a help to those around you. It will become clear who is truly on the Lord's side and who is in it for themselves. Others will become more bold to take a stand for Jesus, and they too will oppose the sin and darkness that is so prevalent. In this way the Lord will be glorified and honored. You will be glorifying the Lord in your work or school, and in your family and among friends.
Verse 15 -
Unto the pure all things are pure: but unto them that are defiled and unbelieving is nothing pure; but even their mind and conscience is defiled.
Here is a very important verse. When our heart has been cleansed by the blood of the Lord Jesus, we can live lives of purity. The opposite is also true - If a person has not been cleansed by the blood of the Lord Jesus, he or she is living in darkness and will normally gravitate to the dark side, and to live for the devil. Such a person's heart is filled with lust and greed. Such men will look at every woman with lust in their hearts, imagining the unthinkable. Their minds are filled with all sexual perversions. As the verse says "their mind and conscience is defiled". Women who live with these defiled hearts lure men into immoral relationships and try to be sexy in their revealing clothing and dress showing their breasts with no shame. These people know no other way to live and believe that the life they are living is normal and yet if they would speak honestly, they would tell you that deep inside they are in turmoil, they are not happy and they are unfulfilled. Their heart is empty as they seek for that next thrill. If you are reading this and it describes you or someone you love, please turn your heart over to the Lord Jesus. Seek Him sincerely, repent of your sin, believe that Jesus is the only Savior and that He died for you. Ask Jesus to save you today. For further information on how to be saved please go to this link How to be saved
also I wrote a blog post on Repentance and I highly recommend you check it out.
Also for prayer for healing from your broken heart please contact the ministry of John Mcternan at Luke4.18Heal@gmail.com and visit his website Jesus Christ Came to Heal the Brokenhearted where he shares how his own broken heart was healed and there are testimonies of others who have prayed and received healing.
Verse 16
They profess that they know God; but in works they deny him, being abominable, and disobedient, and unto every good work reprobate.
This verse warns us to beware of those who profess to know the Lord but in their actions they deny Him. Our lives are a living testimony to those around us. If the fruit of our lives does not line up with what the Bible teaches, then it is time to examine our hearts to see if we are really Christians. If you are a Christian then you will be living according to the commandments of God as he has given in the Bible.
There are people who say they know God, that they are Christians but the evil things they do show that they don't accept him. They refuse to obey God and because they are not lead by the Holy Spirit ( who indwells the heart and life of every true believer ) and because the Holy Spirit is not in them, they are not capable of doing anything good.
Galatians 5 clearly describes the fruits of those who know Christ and the fruits of those who do not know Him. In which camp are you?
Those who are saved and know Christ -
Galatians 5:22-25
But the fruit of the Spirit is love, joy, peace, longsuffering, kindness, goodness, faithfulness,
gentleness, self-control. Against such there is no law.
And those who are Christ's have crucified the flesh with its passions and desires.
If we live in the Spirit, let us also walk in the Spirit.
Those who are not truly saved - Galatians 5:19 -21
Now the works of the flesh are evident, which are: adultery, fornication, uncleanness, lewdness,
idolatry, sorcery, hatred, contentions, jealousies, outbursts of wrath, selfish ambitions, dissensions, heresies,
envy, murders, drunkenness, revelries, and the like; of which I tell you beforehand, just as I also told you in time past, that those who practice such things will not inherit the kingdom of God.