Does anyone still believe anything President Obama says? Are his words not mere empty threats? With the USA promoting the homosexual lifestyle and basically spitting in God's face, the USA appears to be in a downward spiral to destruction. Both John Mcternan and Joel Rosenberg follow the events of our time closely. Here is a piece written by Joel Rosenberg.
by joelcrosenberg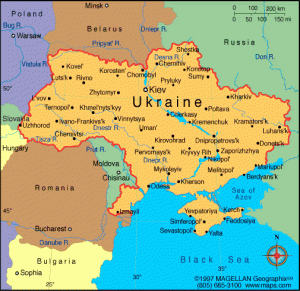 (Washington, D.C.) -- "Delivering a blunt warning to Moscow, President Barack Obama expressed deep concern

Friday

over reported military activity inside Ukraine by Russia and warned 'there will be costs' for any intervention," reports the Associated Press. "He did not say what those costs might be."
"Obama called on Russia to respect the independence and territory of Ukraine and not try to take advantage of its neighbor, which is undergoing political upheaval," AP noted.
"Any violation of Ukraine's sovereignty and territorial integrity would be deeply destabilizing," Obama said in a statement delivered from the White House. Such action by Russia would not serve the interests of the Ukrainian people, Russia or Europe, Obama said, and would represent a "profound interference" in matters he said must be decided by the Ukrainian people.
"Just days after the world came to Russia for the Olympic Games, that would invite the condemnation of nations around the world," Obama said. "The United States will stand with the international community in affirming that there will be costs for any military intervention in Ukraine."
---------------------------------------------------------------------------------------------------------
March 1 - More from Joel Rosenberg:
Czar Putin receives unanimous Senate authorization to use force in Ukraine. Debate warns of "apocalyptic consequences."
----------------------------------------------------------------------------------------------------------------



Here is a piece written by John Mcternan: You can link to his website John McTernan
"Obama aiming for 'unilateral disarmament'" 02/27/14
There is no doubt that this is where Obama is heading, and it is obvious with what he is doing with the destruction of the US military.
If this is what the American people want through el
ecting the Sequester-in-Chief, then so be it.
What this is doing is creating a vacuum that China, Russia and Iran are now filling.

There is no doubt that Obama is God's man to destroy America. Because of America's national sins of abortion and homosexuality, God accelerating the process of removing the nation from being a world power.
Obama is so weak, will this invite China, Russia and Iran to attack us? Obama wants to disarm us of nuclear weapons, so I think if we are attacked, he lacks the courage to defend the nation.

His mind is so full of darkness and hatred for America that he would problem think that it is our fault or we deserve the attack.

Obama's mind is totally given over to darkness, as seen in the fervor he has to kill babies, promote homosexuality and divide Jerusalem.

Can it be any clearer that America is under judgment. and the Holy God of Israel is removing America as a world power!